TEMPORARY KITCHEN OPENING HOURS - 15th - 24th JULY 2018
Due to staff holidays
Please note that due to staff holidays, the BCA Kitchen Opening Hours will be as follows:-
Sunday 15th July 2018 - Closed
Monday 16th July 2018 - Closed as usual
Tuesday 17th July 2018 - 12:00 Noon - 4:00pm
Wednesday 18th July 2018 - 12:00 Noon - 4:00pm
Thursday 19th July 2018 - 12:00 Noon - 4:00pm
Friday 20th July 2018 - 12:00 Noon - 4:00pm
Saturday 21st July 2018 - 12:00 Noon - 4:00pm
Sunday 22nd July 2018 - Closed
Monday 23rd July 2018 - Closed as usual
Tuesday 24th July 2018 - Normal kitchen hours resume
PLEASE NOTE: Last orders for food 30 minutes before kitchen closes.
Apologies for any inconvenience. Bar snacks always available.
The Big Bostin' Blues FUNdraiser
Saturday 11th August 2018 - 7:00pm
in aid of BIRMINGHAM CHILDREN'S HOSPITAL
THE RATTLESNAKES - UNDERGROUND STORM - DISCHORD
Delivering a big bostin' FUNdraiser and rattling tins in aid of Birmingham Children's Hospital. Come down to The Black Country Arms to 'rock out' and help us raise lots of money!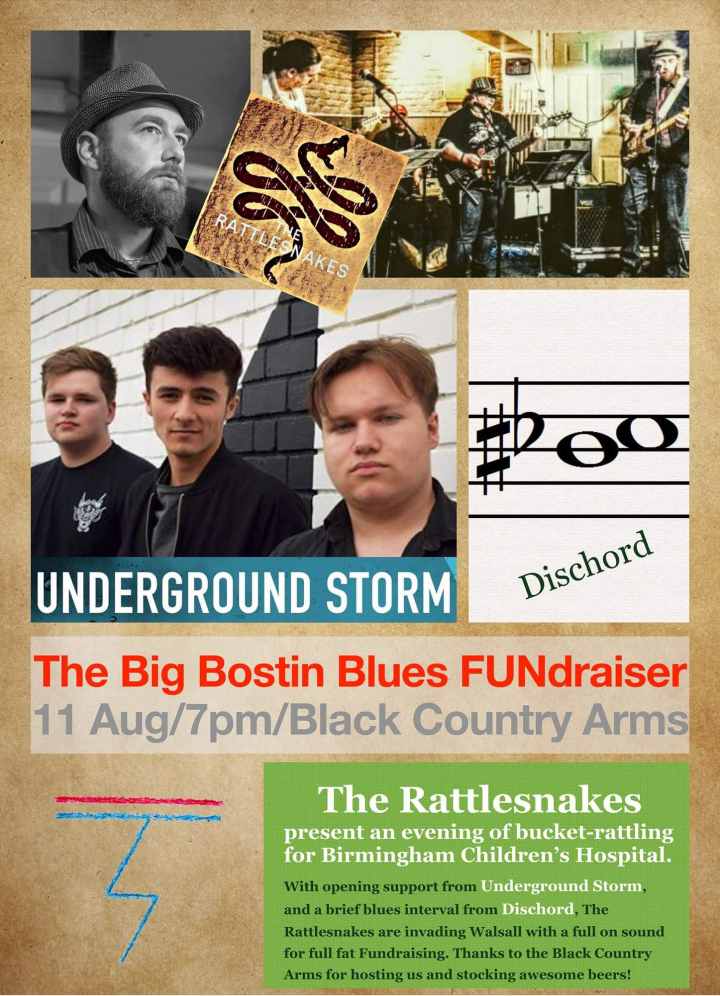 Welcome to The Black Country Arms...
The 'newly-refurbished' Black Country Arms based in High Street, Walsall is one of the town's most ancient hostelries dating back to as early as 1627. Formerly The Green Dragon, this Grade II listed pub is now part of the ever-expanding Black Country Ales chain, and Walsall's foremost real ale pub with no fewer than 16 hand-pulls featuring ever-changing cask ales and ciders from across the UK.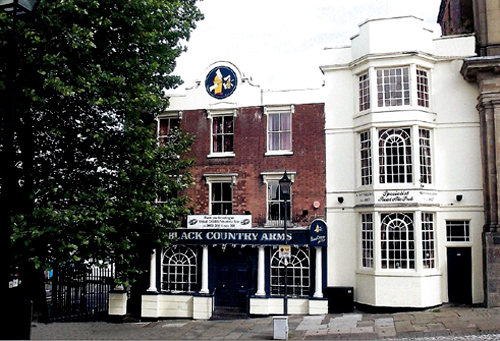 In addition to the extensive array of real ales and ciders on offer, The Black Country Arms also boasts an extensive range of continental bottled beers and fruit wines, otherwise hard to come by in Walsall.
Delicious hot and cold food is also available daily with a fantastic range of high quality dishes to suit all tastes and at affordable prices. Please view our menu for details.
Whilst few can fail to be impressed by the large imposing building that houses The Black Country Arms, with its high ceilings and grand, striking decor, the pub offers a warm and friendly welcome and a relaxing atmosphere that belies its size and town centre location. Quite simply, it's a 'local in the town'.
So whatever brings you to Walsall, why not call in, chill out and soak in some of Walsall's finest history whilst enjoying the very best in real ales and fine food?